Vissa böcker träffar bara helt rätt och du fastnar i den och kan inte lägga den ifrån dig. Denna fantastiska bok av Gerry Sandusky är en sådan. Forgotten Sundays är en öppenhjärtig historia om en familj som gått igenom mycket, både bra och dåligt, och där fotbollen alltid varit i centrum.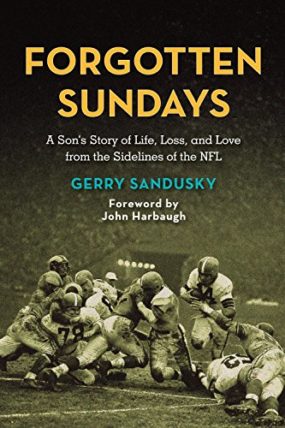 Gerry Sandusky växte upp i en NFL miljö med en pappa som var coach i ligan under väldigt många år. Gerry har själv gjort karriär inom media och sedan 2005 har han varit Baltimore Ravens play-by-play kommentator. Gerry Sandusky har ett namn som är lätt att förväxla med den tidigare Penn State coachen, och numera fängslade, Jerry Sandusky. Att läsa om hur händelser med Jerry Sandusky påverkade Gerry Sandusky är både intressant och skrämmande.
Boken om familjen Sanduskys liv handlar främst om pappa John från sonen Gerry´s perspektiv och om fadern och sonens relation. John Sandusky spenderade runt 50 år i NFL, både som spelare och som coach, och hann med att coach i fyra Super Bowls. Han blev med åren god vän med Don Shula, Johnny Unitas, Dan Marino och många andra. Gerry var en del av detta och den insyn han förmedlar är ett fönster in för oss alla som inte fått uppleva miljön på egen hand. Det är väldigt underhållande att läsa om berättelserna och författaren skriver på ett humoristiskt och lättsamt sätt.
"A few hours later, back at the team hotel in Fort Lauderdale, i found myself in an elevator with my father, Don Shula, and Johnny Unitas. A day earlier and this intersection of time, place, and people would have felt like the granting of a wish. Three heros and me, together, alone. But now, with the elevator, like so much of that day, slow to move, the closing doors trapped me in smoldering silence. My Father, coach Shula, and Johnny Unitas all looked straight ahead, the heavy, uneven breathing of a wounded bear filled the space. As the elevator rose, my tears began to fall."
Forgotten Sundays är inte en bok som i första hand tar dig med på en taktisk lektion eller berättar om de stora matcherna. Den handlar om livet och humaniserar människorna som ger de taktiska lektionerna eller spelar de stora matcherna.
Det är svårt att lägga undan boken när man börjat läsa och de gånger man vill göra det är det för att gå och krama om sina barn, ringa till sina föräldrar eller bara stanna upp och tänka efter. Det bränner ofta till bakom ögonlocken och jag fick torka tårarna vid flertalet tillfällen när jag läste om Gerry Sandusky och hans familjs liv.
Köp boken här