Detta är den mest omfattande boken om den mest gåtfulle coachen. Perfektionisten som alltid tittar framåt utan att tillåta sig njuta av det han uppnått. Men bakom det mekaniska finns det, enligt författaren Monte Burke, en osäkerhet och rädsla för att inte duga.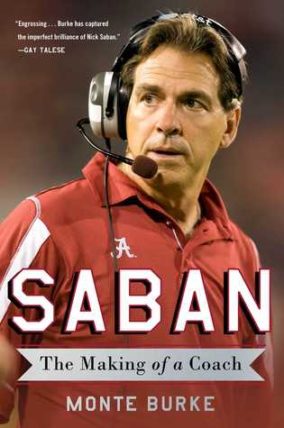 Att Nick Saban, eller Nicky Satan som elaka tungor kallat honom, påverkar sin omgivning råder ingen tvivel om . Han är en av de, om inte den, mest framgångsrike collegecoachen i historien.
Läsaren tas med i resan genom Sabans liv. Uppväxten under en sträng pappa, studenttiden på college, där han blev ögonvittne till 4-maj massakern, och den långa karriären som coach. Burke ger en detaljerad bild av en komplex person med stark vilja och en lika stark rädsla för att ses som sämre. När boken är läst känns det som att man känner människan Nick Saban och har en annan förståelse för saker han gör.
"And when it cam to smoking dope in college in 1970, the question was 'Who didn´t do it?' The answere was 'Nick Saban'. 'Even at age 19 and 20, Nick wasn´t joking,laughing, or goofing around at al"
Boken blev omdiskuterad när den släpptes. Saban sa att han aldrig pratat med författaren och att det som stod i den var strunt. Men Burke bemötte detta med att han följt Saban i syfte att skriva boken sedan 2008 och intervjuat runt 250 människor runt coachen för att ge en rättvisande bild. Den känns väldigt genomarbetad och är svår att lägga ifrån sig när man börjat läsa.
Köp här.