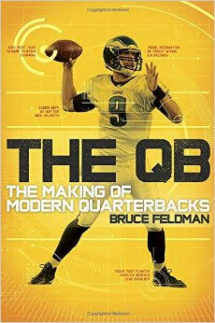 The QB: the Making of Modern Quarterbacks
Bruce Feldman
Sportvärldens svåraste position förtrollar många av fans. Unga spelare drömmer om att bli quarterbacks och samtidigt verkar det vara oerhört svårt för lagen på proffsnivån att hitta rätt spelare att leda laget.
Före detta quarterbacks, entreprenörer och tv-bolag har hittat en lucka här. Akademier och andra kommersiella träningsalternativ har dykt upp överallt. Alla quarterbacks i college och NFL har gått via någon akademi. Det är där framtidens talanger fostras. Där tar också Bruce Feldman avstamp i sin bok om hur den moderna quarterbacken blir till.
Köp boken här (Häftad)
Köp boken här (E-bok)