Att resa till Bryant-Denney Stadium i Tuscaloosa för möte med giganten Alabama är en av de tuffaste uppgifterna en skola kan ställas inför. Sedan 2008 har en försmak av vad som väntar kommit när gästerna kliver in i bortalagets omklädningsrum, då det passande döpts till The Fail Room. 
The Fail Room är i sig inte (enbart) en psykning mot motståndarna från Alabamas sida, utan det är en hyllning till finansmannen James. M. Fail.  Fail tog examen vid Universitetet 1949 och har många gånger lyft fram skolan som orsak till sina framgångar inom finanssektorn. James Fail bidrog finansiellt till skolan under många år men han hade inga planer på att få sitt namn bevarat på universitetet han höll så kärt. Inte fören bortalagets omklädningsrum skulle renoveras kände James att namnet Fail skulle passa in. Mr Fail, som gick bort 2010,  berättade vid invigningen av rummet att han inte trodde han skulle leva länge nog för att se namnet Fail på något i syfte att hedra.
"This naming opportunity came at Mr. Fail's request, Mr. Fail has been such a strong supporter of ours and had already made a significant gift to name our media suite in memory of his late father-in-law, former Birmingham Post-Herald sports editor Naylor Stone. But he had always been hesitant to use his unique name for a naming right until the right opportunity came along." – Mal Moore, Fd. Athletic Director, Alabama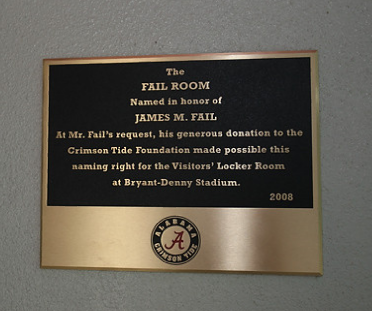 Det har spekulerats i om Alabama-coachen Nick Saban (en känd förespråkare av att använda psykologi, och sedan Michigan State-dagarna haft ett tätt samarbete med psykologiprofessorn Lonny Rosen) har haft ett finger med i spelet till namngivningen av omklädningsrummet. Saban tillträdde som coach 2007 och Fail´s namn spikades upp inför säsongen 2008. Känns inte helt orimligt att anta att Coach Saban varit med i processen.
Sedan The Fail Room slog upp portarna har Alabama spelat 63 matcher hemma på Bryant-Denney Stadium, av dessa har 59 vunnits och endast 4 förlorats. Många tror att namnet på omklädningsrummet har viss påverkan och att många gästande lag börjar i en lite brantare uppförsbacke tack vare namnet.