Under 1930-talet, mitt i den Amerikanska depressionen, började bröderna Primanti sälja smörgåsar i Pittsburgh. Det är något som görs än idag och denna söndag tänkte jag göra den legendariska mackan för egen hand. 
Denna veckan blir det en måltid med en klar och tydlig historia. 1933 köpte Joe Primanti en lastbil och började sälja sina smörgåsar till lastbilschaufförer i Pittsburghs Strip District. Försäljningen gick strålande och snart öppnade Joe, tillsammans med sina bröder Dick och Stanley, upp en fast restaurang på 18th street. Där höll bröderna sin smörgåsrestaurang öppet från tre på morgonen till tre på eftermiddagen, vilket var perfekta tider för lastbilschaufförerna och de många skiftarbetarna i området.
Hur kom det sig att Primantis började slänga pommes frites på smörgåsarna? Enligt John DePriter, brödernas systerson, var det på detta sätt.
"One winter, a fella drove in with a load of potatoes. He brought a few of 'em over to the restaurant to see if they were frozen. I fried the potatoes on our grill and they looked pretty good. A few of our customers asked for them, so I put the potatoes on their sandwiches." – John DePriter
I över 40 år drevs företaget inom familjen, men på 70-talet såldes det vidare till Jim Patrino som sedan dess fört smörgåsimperiet framåt. Primanti Bros hade restaurang utanför Three Rivers Stadium, Steelers och Pittsburgh Pirates (Baseball) gamla hemmaplan. När Three Rivers Stadium stängdes så öppnades restauranger vid både Pirates nya arena, PNC Park, och Steelers Heinz Field.  Idag finns 17 restauranger runt om i Pittsburgh, dessutom i fler andra stater, bland annat Maryland, Ohio och Florida.
Detta är en perfekt söndagsmiddag. Lätt att göra, god att äta och en kul och annorlunda rätt att bjuda på.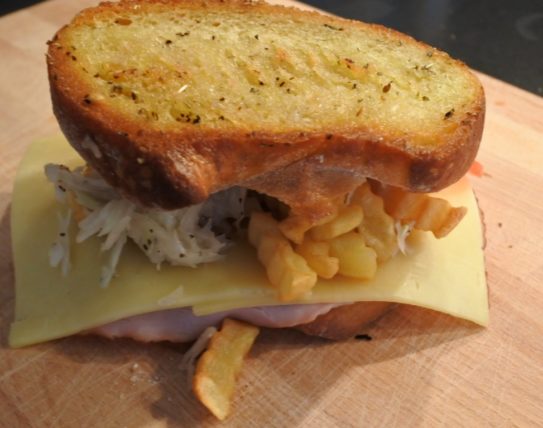 Primanti Brothers Sandwich
En limpa färskt Italienskt bröd.
Påläggsskinka
Provoloneost ( Eller Gouda, Mozzarella, Cheddar då Provolone inte är lättast att hitta)
Pommes Frites
Tomat
Coleslaw
Ett kålhuvud
1 msk vitvinsvinäger
2 msk olivolja
Salt efter smak
Peppar efter smak
Oregano efter smak
1 tsk  Socker
Riv kålen, häl på vinägern och oljan, krydda efter smak. Gör gärna din coleslaw någon timme innan så det drar ihop sig.
Släng in pommes fritesen i ugnen eller i fritösen, Stek brödet i olja, krydda gärna med svartpeppar och oregano. Lägg två skivor skinka på ditt grillade bröd, sen två skivor ost. Lägg på de varma pommes fritesen och sedan coleslaw. Toppa med några tomatskivor innan den övre brödskivan läggs på. Enjoy!